ELMS
LTC
12 Pynnacles Close, Stanmore, Middx HA7 4AF
Open to all children from 4 – 12 years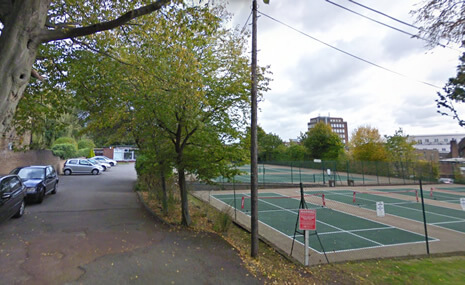 SPORTS AND ACTIVITIES
Tennis
Football
Tournaments
At The Elms, the focus is Tennis, with drills and skills in the morning and games / match play in the afternoon.
Please note, Football is available in the afternoons only.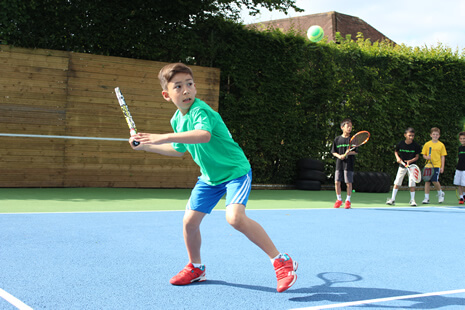 2020 CAMP DATES
February Half Term


(EB 31st Jan)

17th Feb – 21st Feb
Easter


(EB 13th Mar)

CANCELLED

Whitsun


(EB 1st May)

26th May – 29th May

(4 days)

Summer


(EB 29th Jun)

Wk 1: 13th Jul – 17th Jul
Wk 2: 20th Jul – 24th Jul
Wk 3: 27th Jul – 31st Jul
Wk 4: 3rd Aug – 7th Aug
Wk 5: 10th Aug – 14th Aug
Wk 6: 17th Aug – 21st Aug
Wk 7: 24th Aug – 28th Aug
October Half Term


(EB 2nd Oct)

Wk 1: 19th Oct – 23rd Oct
Wk 2: 26th Oct – 30th Oct
2019
October Half Term


(EB 30th Sep)


21st Oct – 25th Oct
TIMES
| | |
| --- | --- |
| AM sessions | 9.00am – 12.15pm |
| Lunch | 12.15pm – 12.45pm |
| PM sessions | 12.45pm – 4.00pm |
COST
EARLY

BIRD

PRICE

REGULAR

PRICE

AM/PM

£16

£18
Whole day

£28

£31
4 day week camp (Easter & Witsun

ONLY

)

£94

£114
5 day week camp

£116

£141
(All prices inclusive of VAT)
Sibling Discount on FULL WEEK bookings only: 1st child pays full price, subsequent siblings have 20% discount (telephone bookings only).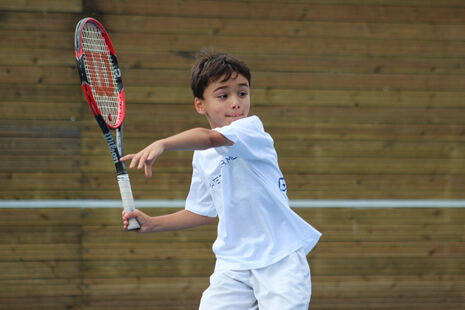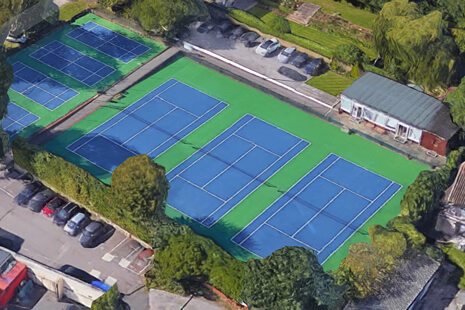 TYPICAL DAILY TIMETABLE
9.00am
Registration in summer house
9.15am
Skills & drills # in groups
10.00am
Break in summer house
10.15am
Skills & drills group competition
11.00am
Break in summer house
11.15pm
Age & ability appropriate games/match play
12.00pm
Summary of morning & plan after lunch
12.15pm

LUNCH

– tuck shop at 12.30pm
12.45pm
Registration in summer house
1.00pm
Individual skills & coaching
1.45pm
Break in summer house
2.00pm
Age/ability appropriate match play/games (1)
2.45pm
Break in summer house
3.00pm
Age/ability appropriate match play/games (2)
3.45pm
Tidy & clean, children ready to go & Presentation/Certificates
4.00pm
Collection
# Drills – different skills to be taught throughout each week, e.g. Serving, Forehand, Backhand, Volleying, Rallying (game related play)
REGISTRATION INFO
DROP
OFF
If your child is arriving for the full day or morning only, there is a drop off point as you drive on to Pynnacles Close. Coaches will be waiting there from 8.45am with a register of all children due to attend the Camp.
You can simply let your child out of the car, into the coaches care who will then escort them to the Clubhouse – no need to park.
If your child is only booked in for an afternoon session, you can drop them off at the clubhouse yourself. You will see this at the far end of the courts / carpark.
PICK

UP

Pick up at the end of the day (4pm) is at the same drop off point on Pynnacles Close, where the coaches will wait with the children. Once again, there is no need to park, the Coaches will bring the children to your car.

If your child is going home at lunchtime, you can call to the Clubhouse yourself to collect your child.
---
Please note there is no parking in Pynnacles Close – which is managed by UK Car Park Management and penalty charges are swiftly issued to any unauthorised vehicle.
If you wish to park and there are no available spaces at The Elms car park, please use Sainsburys car park in Stanmore (90 mins free parking) which is just across the road.