Testimonials
"I have been Headmaster of Naima JPS since September 2008 and have had various dealings with the management and staff at The Elms. At all times, they have been very professional and accommodating and I have been impressed with the quality of the staff who teach PE and Games at the school.

We recently had an Independent Schools Inspection and the PE lessons were seen to be outstanding! I have been in discussion with the management to discuss future plans and timetabling and have always been treated courteously and efficiently and reaching agreement over terms and conditions was very straightforward.

I would strongly recommend The Elms to other schools or educational establishments."

Bill Pratt, Headmaster, Naima JPS, Maida Vale

"Our sports coach is thoroughly professional and reliable and crucially, a committed member of our team. He teaches all age ranges and co-ordinates an after school activities club with great flexibility. In addition to teaching, our coach also assesses pupil progress in order to report to parents."

Holy Trinity School, Northwood

"My son Alex started the football session at Grimsdyke School this term, more than a little reluctant. Elms staff were very accommodating to us and the young coach, Gary, has been wonderful with Alex, as with all the other children. He has much energy and enthusiasm, which has rubbed off on and inspired Alex. We are so pleased that Alex is involved in a healthy, fun, social activity with his peers and owe much of our gratitude to Gary's patience and encouragement."

Mrs Parpotta, Parent, Grimsdyke School, Hatch End

"As a school we have found The Elms to be an excellent resource. They are organised, friendly, helpful and extremely flexible in meeting children's additional needs. The coaches have an excellent relationship with the children and respond to staff requests quickly. They have an effective behaviour management system which supports the children well."

Victoria Jarvis, Assistant Headteacher, Field End Infant School, Ruislip

"Elms Sport in Schools provide us with two coaches everyday. They are fun for the kids and provide a great service. In particular, Shayne, Steven, Alex and Tommy have got to know the children really well and we always look forward to their daily appearance. "

Tina Gabriel, Senior Midday Supervisor, William Tyndale School, Islington

"It was nice to receive a letter from a parent recently, thanking our school for engaging the services of such a good quality sports specialist to raise the profile of sport within the school! "

Jacqui Holder, Headteacher, Whitehall Primary School, Chingford

"Just to say a huge thank you to The Elms Coaches for helping at our Summer Fair on Saturday. They worked tirelessly and we had great feedback from parents and other members of the community on how well they organised, included and enthused the very many children of all ages and abilities. With much appreciation! "

Claire Oliver, Deputy Headteacher, William Tyndale Primary School, Islington

"The Elms have been providing us with tennis lessons in the lunchtime slot for the past 16 years. Their professionalism has always impressed me and they have certainly made the communication and organisation side of things very easy to manage. The courses have been very popular with our girls – The Elms seem to get the balance just right between teaching technique, playing games and having fun. I would like to thank them for their input and I look forward to many more years working together"


Amy Newsome, Director of Sport, North London Collegiate School, Edgware

"We are extremely pleased with your coaches, the feedback from my staff has been very positive."

Mandy Eglash, Head Teacher, Golders Hill School, North West London

"Just to say a big thank you for your support in providing us with further paperwork for our PE curriculum – and of course for coach Marc. We received an overall verdict of 'Outstanding' for our survey inspection programme on physical education yesterday, Many thanks again!"

Maureen Donnelly, Previous Head Teacher, St Edwards Primary School, Marylebone

"Can you please pass on our heartfelt thanks to your coach Ricky. He always does an amazing job, but he really pulled out all the stops during our Ofsted inspection and we are so very grateful."

Ashfield School, Bushey, Herts

"My name is Michael Petrovic and I am the PE Co-ordinator for Hillingdon Primary School. For this past academic year I have been working with your coaches Jon and Chris in P.E. lessons. Both have impressed me with their professionalism and how well they relate with the children. I just wanted to pass this on to you. I sincerely hope to continue to work with both Jon and Chris in September."

Michael Petrovich, PE Co-ordinator, Hillingdon Primary School, Hillingdon

Hello Elms Sport in schools team,

I just want to say a thank you for the friendly and very positively encouraging coaches who were leading the club in Atwood Primary Academy in October half term 2014.

I had my two daughters in the club. One of them (6years old) loved it so much that I agreed to increase her hours on the last day. The older one (9years old) has always been quite hesitant to get involved in new things, especially in exercise. However, within a minute or two talking with the coaches my daughter said "This is better than I thought". And she genuinely enjoyed the club from that first moment onwards.

So A BIG THANK YOU!

And Merry Christmas!"

Parent, Atwood Primary Camp

I am writing to let you know how impressed I have been with Shaun teaching in school. He is great and has taught some wonderful lessons. He also has fantastic behaviour management strategies and all children have responded well to him."

Ms Sam Adcock, Headteacher, St Peter's Primary School

"My two sons attended a 6 week course on Tuesdays afternoons. They were coached by Amit and Jack. These two coaches were both excellent. My boys have attended many sports clubs and these two coaches stood out by miles. They were so encouraging but also paid attention to detail to ensure the boys made genuine progress. They were observant about their technique and made it fun and seemed very caring and skilful. THANK YOU."

Natalie Flatter, Parent

"My daughter, Blossom, attends the football course at Ashfield Junior School and absolutely loves it.

My husband and I are completely detached from the world of football and this is giving Blossom a whole new experience within her world.

The coaches (Ricky and Marc) are absolutely lovely – so encouraging and really make Blossom feel like she can do it!"

Parent, Ashfield Junior School

"As always, the boys – Lee and Sam – have done very well this year. Romario has really developed and is a great asset in the playground.

Thanks to the others – Angel, Ricky and Adam for the Infant Sports Day yesterday, which ran to time and was very much appreciated by the parents"

Bill Pratt, Headmaster, Naima JPS, Maida Vale

"Please pass this on to the team. A great sports day put on for us – parents and staff enjoyed it and, most importantly, the children loved it. Perfectly pitched, timed and lots of enthusiasm.

A big, big thank you and thanks to Jason for putting it together"

Darrell Butler, Head Teacher, John Locke Academy, Uxbridge

"We have just completed the first half of the Holiday Club at Elmhurst and felt I had to drop you a quick line to thank you for the wonderful Gareth!

What a god send! I can not sing his praises high enough.

The boys have had such fun with him and we in turn have enjoyed watching the sports, in particular the cricket! The daily cricket match had us on the edge of our seats cheering and clapping!!

He coached children as young as three with patience and had such a lovely nature that all boys instantly loved him. Thank you for sending him!"

Ms Tracey Hipgrave, Clubs Co-Ordinator, Elmhurst School

"One of our parents was so impressed with Sean's coaching skills at a football tournament yesterday, she said: "He stood out amongst other schools with his positive approach and fantastic words of encouragement towards the Moriah team, thus enabling them to do their best. He was fab!"

Sean is a highly professional, committed sports coach and we are thrilled to have him working at our School!"

Ruth Gafson, Headteacher, Moriah School

"Yesterday I had the pleasure of watching a selection of the Year 3 & 4 children playing football in the 5-a-side tournament in Mill Hill Power League. I promised my son that I would watch him and I had a really enjoyable time seeing the children happily playing in a healthy, competitive environment, yet always with smiles on their faces – irrespective of the end result. I observed how Lee communicated with the children with clarity and concision, and most importantly how well the children responded to him and listened to his instructions. Comparing Lee to some of the other coaches who were screaming at their players, Lee was always very calm and collected, albeit keen to see his team progress. With 100 children running around, I found the discipline and respect which the children had for Lee very admirable and felt I had to reflect this to you!"

Parent, Naima JPS, Maida Vale, January 2017

"We just wanted to say thank you to Lemar and his colleague for the past 4 days at Parkside School in Chingford.

Our daughter has really enjoyed it and when we asked if she wanted to do the after school activity club you are running next term she was really enthusiastic so we have already signed her up for it.

If you are running a summer camp near us, we would be very much interested in receiving details."

Parent, Parkside School, April 2017

"I just wanted to share an observation: over the last few weeks, when I've walked through the playground during the Tuesday afternoon programme I've noticed that the football coach appears to have really excellent behaviour management.

He seems to notice a lot of low level disruptive behaviour, like spotting kids eating in places they've been told not to. Also he sets out clear consequences…Just now I saw him telling someone to take time out from the game because he hadn't been listening. The kids seem to respect him and respond well to his approach.

I know over the years the football games during youth activities are often a flash point for behaviour problems as well as injuries. What is happening now seems a million miles from that."

Executive Director, Finchley Reform Synagogue, April 2017

"Thank you so much for making Edison's week the best! He absolutely loved it and it's had a big impact on him. He's excited every morning – so you do more than just a job, you've made a difference."

Parent, Holy Trinity School, Wimbledon, April 2017

"I would like to just let you know how fantastic Sports Day on Monday was. All the staff at the Elms were incredibly professional and well organised.

The day was an absolute success and we could not have done it without the coaches. We have had floods of emails in from staff, parents and governors praising everyone on the day.

Could you please pass this onto anyone involved.

Thank you!"

Maria Nickson, PE Co-ordinator, Whitchurch School, Stanmore, July 2017

"Just to say how well your lot have done this year, both at school and with Sports Day.

We are sorry to lose Lee, but he's done well, and I am delighted to welcome a female coach to bring some balance!"

Bill Pratt, Headmaster, Naima JPS, Maida Vale, July 2017

"We are delighted with the work that Elms coaches do here at Woodlands. They really motivate our pupils to take part in and enjoy sport, as well as delivering lessons that have improved fitness levels and key skills.

Coaches are friendly and have formed positive relationships with all staff and pupils alike. They liaise well with our sports leader in school and help our pupils prepare for all sporting events throughout the calendar year.

Our lead coach now leads our annual KS2 Sports Day which has been a huge success as commented upon by parents, pupils and staff; as well as organising fund raising events which has bought new equipment for our school."

Jane Woods, Head Teacher, Woodlands Primary School, Borehamwood, October 2017

"I just wanted to let you know that my son has just finished his first day at St Edwards sports camp – and he absolutely loved it.

I was very wary of sending him as he isn't really into sport and absolutely hates football! Well I am so surprised, he wants to attend for the whole week!

I don't know what your coaches do, but they are definitely doing something right – amazing!"

Parent, St Edwards Catholic Primary School, Easter Camp, April 2018

"I just wanted to pass on my thanks to Dan & Mitch who ran the camp at Parkside school this week. My kids Eliza & Finley have always hated holiday camps and being a working mum this has always been a bit of a problem! My son is also not sporty and hates competitive sport! So my expectations were low:) however, he loved it so much he stayed all day despite only initially being booked in for the morning. (Even Eliza who was a bit teary at times from a late night, loved it and was gutted she couldn't go next week.

Great job and please pass on my thanks to the guys , who obviously have a great connection with kids, and made it a fantastic day."

Parent, Parkside Primary School, Easter Camp, April 2018

"Looking forward to another great day. Last Friday was awesome – thank you….more, more, more …"

Phil Crowley, P.E Lead, John Perryn Primary School, Inter Primary Football Tournament – Ruislip, April 2018

"Thanks so much for inviting us to the tournament held today. Great organisation and thoroughly enjoyed by our boys and girls. Could you please pass on our thanks to all those who had a hand in the day."

Ian Silvester, Deputy Head, Alpha Preparatory School, Inter Primary Football Tournament – Ruislip, April 2018

"I just want to pass on my thanks to Calvin and Adam. My son Edison loves the camp with them and was so happy this week. As always, he can't wait to see them again soon."

Rebecca Liston, Parent, Multi Sports Camp at Holy Trinity, Wimbledon – February 2019

"Quick feedback from the first week, in a nutshell, the coaches are brilliant. Very professional and polite and the classes are run very well and have good structure. We look forward to working with the Elms for the foreseeable."

Lavinia Riley, Registrar and Internal Operations Manager, The Lyceum School, London – May 2019

"I just wanted to say how delighted we have been with Tez. I am so impressed with his attitude and approach, and with his manner with the children and rapport with staff. I was lucky enough to go along to the Enfield Schools Basketball Tournament with Kerry and Tez last week. Tez had put a lot of his own time into coaching the children as well as during our lunchtime sessions and you could really see how much it meant to the children. They were delighted to be there, and performed very well. So much so, in fact, that we have been asked to represent Enfield in the London Youth Games at Crystal Palace in July which is a real honour. Aside from this, Tez always deals with any issues that arise at school very professionally and appropriately and overall is a pleasure to have in the school. I just wanted to pass that on."

David Bryant, Head Teacher, Southbury School, Enfield – May 2019

"My daughter absolutely loves the camps she's been to so far!! Fair play to the Enfield guys, they're doing a great job!!"

Antony Freer, Parent, St Andrew's Camp, Enfield – June 2019

"Our children and parents have always given feedback so positively about how your team have encouraged them to extend their enjoyment in sports and helped many to go beyond their potential, which is testament to the core values of your business."

Pamela Hanly, Whiteheath Infant School, Ruislip – March 2020

"Angie, can I take the opportunity to say thank you for the support you have given us this year? A brilliant thing about The Elms is the personal touch and the terrifically quick response that we get if ever we have need to talk to you or Ricky (or your other colleagues). We really appreciate that. I hope this horrible time hasn't been too damaging for the Company and look forward to hearing from you about the new year."

David Bryant, Head Teacher, Southbury Primary School, Enfield – March 2020

"I just want to say my daughter had an amazing time. I was a little worried as she's only 4 and had just started reception but want to encourage her to enjoy sports.

Thank you so much to the coaches that ran the sessions at St Andrews School Enfield. She had the best time and was so keen to keep active. Looking forward to sending her again GOD willing in the future once things are up running again."

Wincey Nyakpenu, Parent, St Andrews School October Holiday Camp, Enfield – November 2020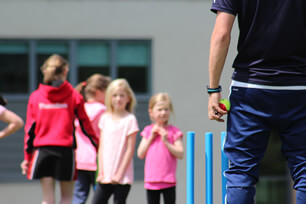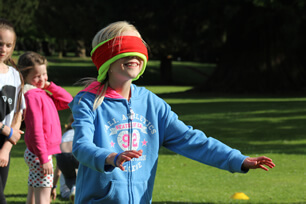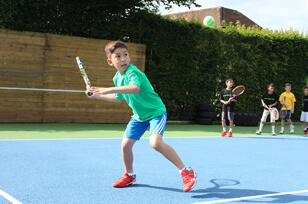 The Elms Holiday Camps have been running since 1990 with the aim of giving children a fun-filled action-packed time, playing sports and games in a safe, organised and controlled environment.
The Elms create bespoke sports camps at various venues based on facilities, ages and numbers. Enhancing child development through sport is a key component of camps which emphasise social skills, co-ordination and movement,
In an era where technology is rife, what better way to know that your child is staying fit and active than enrolling them at one of The Elms Sports Camps.
Certificates and Medals are awarded every day.